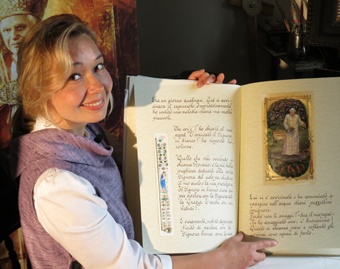 Natalia Tsarkova Pittrice
News & Eventi
Pope Benedict stars in new children′s book
Vatican City, Apr 15, 2012 / 04:08 pm (CNA/EWTN News)
Natalia Tsarkova, known as the ''Michelangelo of the 21st century'' for her work as the official papal portrait artist, gave Pope Benedict a special gift for his 85th birthday: a copy of her new children's book in which he is the star.
Tsarkova presented her book, titled
''The Mystery of a Small Pond,''
to the Pope ahead of time - his birthday is April 16 - during a private audience at his summer residence of Castel Gandolfo. The two main characters in the literary work of art are Pope Benedict and a small red fish.
In an interview with CNA, Tsarkova said she came up with the story one afternoon while strolling through the gardens at Castel Gandolfo.
''While waiting in the fantastic and such spiritual atmosphere of the gardens, I got the idea to write a book and give it to the Holy Father for his 85th birthday,'' she said.
''It was like an inspiration that came from my heart. I had no trouble writing it because it came to me in a very spiritual way.''
Tsarkova was born in Russia, was one of the most successful students at the Moscow Academy of Arts and is known for her portraits of numerous celebrities.
A devout Orthodox Christian, she came to Rome more than twelve years ago. Although she planned to stay just a few months, her life changed forever in 2000 when she was asked to paint a portrait of Blessed John Paul II to mark his 80th birthday. She said it took her two years to write ''The Mystery of a Small Pond,'' in which she attempts to convey the love Benedict XVI has for nature.
The story is about a small red fish that swims in a pond at Castel Gandolfo during the summer. The fish takes a liking to the Pope, who comes to visit it and feed it each day while he prays the Rosary.
At the end of the summer, a cat comes to the pond to tell the fish that the Pope is not coming back. The fish's father, seeing how saddened his son is by the news, tells him not to worry. ''The man in white comes and goes each summer.'' The book includes beautiful illustrations and is printed in medieval-style calligraphy. The Vatican publisher Liberia Editrice Vaticana plans to translate the book into Spanish, English, German, Russian and Italian. Tsarkova said the book was very special to her ''because it conveys a message of love and faith and can touch the hearts of children.''
''I am very happy with the results,'' she said.